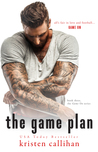 The Game Plan by Kristen Callihan
My rating: 4 of 5 stars
First…the covers just get better with each book in this series.
OK, I'm good now…*deep dreamy sigh*
I've been intrigued by Ethan "Dex" Dexter since the beginning of the Game On series. He's quiet and mysterious — not even his closest friends know all of what lies underneath the surface.
"Some guys are alpha dogs, snarling and snapping. Dex is more like a silverback gorilla, quietly going about his business until something pisses him off and he gives a warning."
To say I was looking forward to Dex's book, would be an understatement.
Here we pick up 2-3 years since Drew and Anna fell in love while they were in college. The boys have all graduated and moved on to different cities to play in the NFL. Dex is now a center for a NFL team in NOLA. He loves playing the game, but he's also a little lonely being away from his closest friends and family while coming home to an empty home. He's watching his friends fall in love, begin to start families, and reap all the benefits of being newly minted millionaires. Dex is happy, but something is missing from his life. Dex has been pining for his best friend, Gray's sister-in-law, Fiona, since he met her 2+ years ago. Fi might just be the missing piece Dex needs in his life.
Dex was as swoon-worthy as I expected. He's a hot, bearded, pierced, man-bun wearing lumbersexual. He's also a 24 year old virgin. When I read the blurb for this book, I was so ready to eye roll as to why a young man, particularly a professional athlete with girls coming at him from all directions, would be a virgin but Ms. Callihan made this plot point work for me which doesn't usually happen with other books with a male virgin. Even though Dex hasn't done the deed, he still sexy as all get out. My favorite quotes:
"Tell me what to do. Tell me how to please you."
"I never got to taste you, Fi. I regret that. I have no idea what a p**** tastes like, and all I can think about is yours. God, I want to spread you wide and take my time, savor every inch, see if your flavor changes when you come."
"Cherry, let me lay this down for you. I'm all in. I want you. I always have. You going to let me have you?"
Fiona is the "blacksheep" of sorts in the Mackenzie family. She's a bit flighty — still searching to find herself and her niche. She's working at a job she hates, but she's trying to persevere and not disappoint her family by quitting something again. She wants Dex but the distance and the fact that he was an athlete is an understandably hard adjustment for her. It took me a little more time to  warm up to Fiona, but I really liked her by the end.
Dex and Fiona fall quickly during a few days visiting Gray and Ivy in SF, but ish gets REAL once they decide to embark on a long distance relationship and have to deal with their relationship in the public eye. I loved every moment of their journey, even the angsty moments. Drew and Anna remain my faves of this series, though Fi and Dex come in a very close second!
I wonder who'll be next in this series…Rolondo, perhaps??


Click for reviews of other series titles