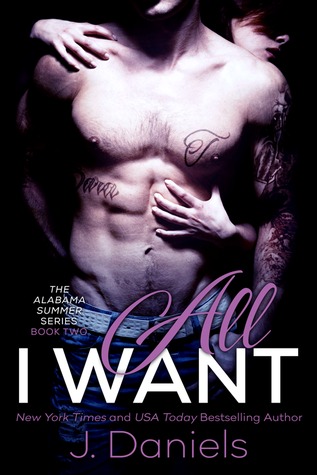 We met Luke and Tessa in Where I Belong — at points their troubled romance was more intriguing than that of Ben and Mia. I enjoyed Ben and Mia, but…
Luke and Tessa had a steamy summer fling which Tessa ended abruptly without telling Luke why. All I Want picks up a year after Tessa and Luke's breakup. Neither Tessa nor Luke is over the other, but they are still holding major grudges.
"I hate that I can't hate you enough to forget you. That for the past year I never stopped thinking about you. Not even for one day."

~
Tessa
"I hate what you did to us. That what I gave you wasn't enough, and that you fucking kept shit from me that I had every right to know about."

~

Luke
I love a good second chance love story….the I-love-you-I-want-you-but-I-hate-you angst turns my crank EVERY time. Tessa is willful, sarcastic, and downright bitchy at points; I loved her!! Luke is stubborn, tortured and sexy. These two together were…
This time Tessa wants all of Luke. Luke isn't willing to give Tessa all of himself; afraid that if she knows everything, she'll feel differently about him.
"She doesn't need to know about all this. All this shit—it's mine. It's my fucking burden, and I won't make it hers. I let her in as much as I can, and it has to be enough because that's all I can give her." 
"[…] when you fall in love with someone exactly the way they are, how do you convince yourself they aren't enough for you?"
Therein lies the major conflict between them. Tessa and Luke gave me everything I needed. I got believable angst and tension, hot smexing, and a sweet reunion.
The cherry on top were the updates on the rest of the Alabama Summer clan, who I've come to love as well. Looking forward to Reed's story next. And the upcoming crossover between the Alabama Summer and the Sweet Addiction series…
 Rating: